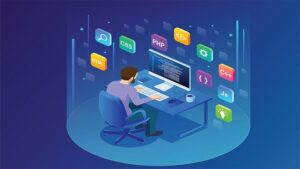 Coding, which was once an outlier, is now one of the most sought-after skills in the job marketplace.
Between now and 2030, the U.S. Bureau of Labor Statistics
(BLS) projects about 9,700 new job openings each year for computer
programmers as others retire or change occupations. As these workers
leave the industry, who's going to replace them?
Here's the good news: you don't need a computer science degree to
become a programmer and learn coding languages. You can join other
self-taught learners and develop a skill set that improves your access
to new job opportunities.
Want to learn more about why you should learn coding and the benefits of coding?
Why You Should Learn To Code

1. Learning To Code Teaches You Problem-Solving Skills
2. Coding Has Enormous Earning Potential

3. You Join A Massive and Helpful Community

4. Coding Offers Huge Career Flexibility

5. Coding Teaches You To Depend on Yourself

Why You Should Learn To Code
Learning to code comes with several benefits. First, you'll sharpen
your problem-solving skills and learn how to depend on yourself. That's
not all. You'll also become part of a massive and helpful community that
will help you cope during tough times and grow.
Coding also improves your earning potential and increases your career flexibility, making it easy for you to work anywhere.
Let's go over why you should learn coding in more detail.